I played with Bordy!!!
April 27, 2011
(…..Thats what she said!
My regular Round Of Each game featured none other than WSOPE Main Event champion James Bord, who had popped back to the UK for a couple of weeks before flying out to Macau. Suffice to say a £5/5 game is probably a little too small for Bordy nowadays and things started with a blind raise UTG; the chips went in, and Bordy won the hand.
This set a pattern for the rest of the afternoon as he smashed the table up left right and centre to walk away around £8k up for the session. I felt like I got away with it losing 'only' £700 on the day.
For those of you that don't know, he is one of the founders of thepokerfarm and has been making a living from poker and sportsbetting for a long time before his huge win. I was fortunate enough to meet him  shortly after I signed up with Pokerfarm; and not too long after his WSOPE win.
http://www.youtube.com/watch?v=rKxEQEABGMI
At the time, When I saw the video footage of the WSOPE main event I didn't like what I saw...  Bordys entourage at the time looked (to me) like footy hooligans ready to start a brawl. To say I wasn't impressed is an understatement. However we will put that down to having a bad day.
If you watch more footage of the final table it becomes clear James' opponent, Fabrizio Baldassari, is relishing the thrill of playing against a home grown player and is enjoying all the banter with the railbirds. As it turns out I know a fair few of the Railers and most of them are really lovely guys. However this was my first impression of Bordy....
….So as is per normal, I am playing Blackjack in Monte Carlo when in walks Mr Bord. I introduced myself as a 'new pokerfarmer' and met up with him properly the next day, when I was fortunate enough to catch a glimpse of his mad lifestyle.
It was late afternoon and James was finishing off the sportsbetting on the UK football games. He was talking to me, screaming down skype/mobile phones and focusing on the latest scores, all whilst placing huge amounts on the outcome of games. Was an interesting sight for sure.
As it turns out he is a very down to earth guy, blunt, honest and doesn't suffer fools. He spoke candidly, expected me to do the same, and did not talk himself up in the slightest. In fact I clearly remember him saying, on the WSOPE bink "i got lucky, yeah I played well but you have to get lucky to win these things"... none of the normal bullshit you might expect.
I liked him immediately and respected him for not feeding me any crap. It was a lot of fun having him sit down in my regular game too, Just next time I dont want him walking away with all the Cheese!

100% bonus up to £1250
$5 Bonus released for every 350 WH points earned
Pokerfarm Sponsorship
Up to 50% value back with our sponsorship scheme.See Promotions page for details
$400 New Player freerolls
Recieve 4 tournament tokens for thier weekly $1000 new depositor freerolls.
Exclusive Promo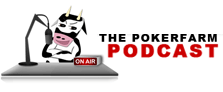 Catch up with the latest Pokerfarm Podcast.
Live From Cannes. Dinner With The Develfish