Nottingham Tales - Cash Games
March 3, 2011
Well having busted the main shortly after the dinner break; I set about attempting to get into a cash game.
This was easier said than done on the Friday night, as a £100 tourney had kicked off. There were a few tables going, mainly £1/2 NLH, but the lists were the longest I've ever seen and no new tables were starting.
I stuck around for a while chatting with fellow bustees and those who were saving their bust for day 1b. There were rumours of heading out for James Keys celebratory drinks (I don't know him personally but know enough people he knows to comfortably tag along!). As it turned out the party never happened. A £5/10 Texas game was starting; my (drunk) flatmate convinced me to sit down and play.
When I say convinced; what I actually mean is that he anted up £1k and said 60/40. You might not believe this but I still didn't want to sit down as it was short handed with 3 internet whizz kids all looking to level each other, a very tight older gentleman and one fish – me.
Still after 3 hours of sitting around, the allure of the VIP room – free food and drinks FTW, was too much to ignore. Not much to report really, managed to hold my own for an hour playing quite tight then decided to 3-bet AJs and double barrel a 556T board. Suffice to say my opponents 22 was good. I ended up 200 in the red .
Saturday was fun times. I woke up early to give my flat mate a lift from the hotel to DTD to play in the main. I went back for a couple of hours and turned up at 4ish to get myself on the cash lists. I was confronted with a big sign saying 'no cash games for a while'. After asking I was told it would be at the very least 2 hours.
One of my poker buddies was at a pub flipping and drinking so off I went to play a variety of poker variant flips. Options available were 6 card holdem; whereby you get 6 cards and make the best 5 card hand out of the 11 available. Any and all variants of omaha were welcome. I lost £30 before deciding I should head back to DTD for cash.
When I got back it turns out the cash games had been running from about 5pm. My now busted flatmate had managed to grab a seat in a rocking £1/2 PLO game. It turned out, however, that a £5/10 PLO game was going on in the VIP room. I was number two on the list. A new £1/2 PLO game started. I was only there for 45 minutes and crushed for £175. My name got called for the 5/10. As I sat down I stated that if I can maintain my hourly from the last game I would be delighted. Little did I know!
                       --------------------------------------------------------------------------------------
I sat down with £1000,same deal as the day before, 60/40 and I was allowed 2 buyins, with £200 makeup from the day before.
Within 45 minutes I had dropped almost £500. I kept getting very nice starting hands but missing the flop. Standard PLO. Eventually I found AA pre, and doubled versus a rundown on a A46 board. With the preflop action I now had around £1.1k.
I never looked back. The table was fantastic. It was 6 handed with two bad players to my right, and two to my left. The player in the middle was a friend of mine; who also happens to be an excellent PLO player. As it turned out we managed to avoid each other and basically chop up the other 4 players between us.
I can only remember one pot after the Aces. What I do know is that I never looked back. I was getting action when I wanted action, my bluffs were all getting through and I wasn't being put under any pressure.
A big pot occurred with 3 way action. I found AJJ8ds on the button, raised and was 3 bet by the blind. The flop came down KT9 with a nut flush draw for me. The preflop reraiser bet full pot and the guy in the middle folded. The villain was very tight postflop and barely made any positive action so I dwelt up for a while.
If my opponent had JQxx I'm about 45% in the hand, if i'm up against KK then i'm 40%. Either way its unlikely my oppoenent has a lot of JQ's in his range (AA**, AKK*, KK**) and I felt I could fold out KK given his profile. He tank folded the hand and it turned out he had folded AKTT, which I am flipping with. That was a nice sized pot and I was happy with my analysis of my opponents holding and profile which led to a good shove decision.
All in all 4 hours play saw me leave the table with £3.5k, showing a £2.5k profit on the evening. £5/10 is the biggest live cash game i've played; although the game wasn't playing particularly deep. It was a lot of fun and if i'm honest it was one of the easiest games i've played in a long time. Bad, passive opponents make for a low variance game of Omaha – which was refreshing.
I played a little on the Sunday, dropped £300 and left for home. I was extremely tired but delighted with the trip. I played well in both the main event and the cash games and had a lot of fun to boot.
Thats all for now folks, GUKPT London is on the 17th of March so I will be at the Vic for cash games in all likelihood.
I'm excited about the $5million on Pokerstars this Sunday. I've been saving my rungood AND 'onetime' for this one.
Tony

100% bonus up to £1250
$5 Bonus released for every 350 WH points earned
Pokerfarm Sponsorship
Up to 50% value back with our sponsorship scheme.See Promotions page for details
$400 New Player freerolls
Recieve 4 tournament tokens for thier weekly $1000 new depositor freerolls.
Exclusive Promo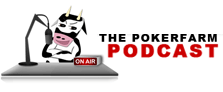 Catch up with the latest Pokerfarm Podcast.
Live From Cannes. Dinner With The Develfish