Nottingham Tales – The Tournament
Feb. 21, 2011
I've not blogged in a while as there has been a slight problem with one of pokerfarms clients. I've barely played online this month; in part due to that, partly due to other commitments.
I did however find time to go up to Dusk Til Dawn in Nottingham for the UKIPT main event, and a bit of live cash.
I've always enjoyed going on the road to play live. It seems to inspire me to get good volume in and I seem to consistently play my A-game. I'm sure much of this is psychological but I seem to post good results, have a lot of fun with the guys I know from the scene and, as ever, compare notes (and bankrolls) and do flips for all manner of things.
For those of you unfamiliar with 'flips'; these are simply silly bets, mainly with zero ev, with friends to help the time pass. We'd barely been in the car 20 minutes before the passengers were flipping for petrol money, via credit card roulette. On the way back a pub quiz application was used to decide who paid. There is also a tradition of flipping for Nando's as there is one opposite the poker room.
There is nowhere in the UK better for poker than Dusk Til Dawn. It is bigger than most Vegas card rooms and is better organised to boot. It is not uncommon to find 4 different tournaments running at the same time; along with a full range of cash games from £1/£2 to £10/£20 in the VIP room. Its simply a fantastic place to play poker. My one and only complaint: the food is mediocre at best.
I sat down at Noon on the Friday to play day 1a of the £560 UKIPT main event and had a fairly good table. Two players from another well known poker school were constantly nicking my blinds, but there were at least 3 spots of value aside.
Starting stack was 15000 chips, blinds started at 25/50 with a fantastic hour long structure. Again, props to the organisers for a really well organised comp with lots of play. All in, over 1000 participants anted up for a prize pool that exceeded £500,000.
I was very very happy with my play before the dinner break. I don't play a lot of tournaments, and don't consider Texas my strongest game, however I managed to chip up slowly and surely in the first couple of rounds. It helped that I kept finding AK in the late afternoon levels and managed to double versus QQ on a K65 board where I 3-bet, checked the flop, led the 7 on the turn and my opponent shoved over the top. He was one of the weak spots.
I managed to get up to 45000 at one point and felt like I was well in control of my opponents and playing well. I had ran good too, my TT beating one the aforementioned tough spots versus his KQ and 99 holding up against A6 versus a 3 bet shove.
This all ceased when I got slightly over excited with AQ suited, flopping a flush draw and turning a nutshot on a K96T board. My opponent had led/called the flop and check/raised the turn with K9. I could have checked back the turn; as it stood I was getting the odds to call 22k to win a pot of 70k on the turn so I wasn't too displeased with the spot. I don't mind busting as I know the cash tables are juicy.
I had a few bits and pieces in other people; one of my close buddies walked out of day 1a as near chip leader and another walked out of day 1b in a similar spot. Unfortunately day 2 didn't go well for either of them; the first losing early on KK v AK for a huge stack; The other managed to get up to over 1million in chips before a "table move + spaz = out" manouvere.
Cash tales to follow
Tony

100% bonus up to £1250
$5 Bonus released for every 350 WH points earned
Pokerfarm Sponsorship
Up to 50% value back with our sponsorship scheme.See Promotions page for details
$400 New Player freerolls
Recieve 4 tournament tokens for thier weekly $1000 new depositor freerolls.
Exclusive Promo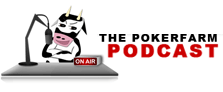 Catch up with the latest Pokerfarm Podcast.
Live From Cannes. Dinner With The Develfish