Super Sunday, Manic Monday, Terrible Tuesday
Feb. 8, 2011
Sunday was, as last time, super. Another +$1k day, although it was a shortish session of 500 hands. The deck happened to hit me like a slice of pizza in an Old Trafford tunnel.
I was happy enough with my pre-flop stats – VPIP of 29, PFR of 18 and 3bet % of 10.
The 3bet is a little high for my personal style but it is something I'm aware is fine to increase. That said, I kept getting tiptop pre-flop hands . Obviously I  ran hot too, although I coolered the hell out of all my opponents rather than outdrawing them in the 50/50 flips or 60/40 coups that are the mainstay of PLO.
I've made a pact with myself to ignore the EV stats on my holdem manager so ignore the next line please. I ran 'only' 20% above EV (compared to normally running like 80% below!)
 Tuesday. One word. Sigh.
Stats were similar to Sunday. 3Bet was down to 7.5 but that's fine. Given I'm not interested in EV any more; its totally redundant to say that I ran 1200 below EV to end up 800 in the red for the day.
I am proud of my play however; I stuck it out even though things weren't going my way and managed to play to a high level over both sessions. I 'should' have made $1300 over those few days, instead I 'only' made $450. Not too shabby for a few hours work but frustrating nevertheless.
BUT – This is not a moan (I'm done with that too). I'm quite happy with my play recently. I can certainly do with a bit more analysis and, as ever, higher volume, but is all good.
I will be reiterating this for everyones sake, most of all my own; the positive mindset is a must and can only lead to good things!
Sorry I cheated you out of the Monday section. There simply isn't much to tell but it makes the title of this post that little bit snappier.
Happy Chinese New Year!
Tony
What Others Are Saying
1 Comment about Super Sunday, Manic Monday, Terrible Tuesday

100% bonus up to £1250
$5 Bonus released for every 350 WH points earned
Pokerfarm Sponsorship
Up to 50% value back with our sponsorship scheme.See Promotions page for details
$400 New Player freerolls
Recieve 4 tournament tokens for thier weekly $1000 new depositor freerolls.
Exclusive Promo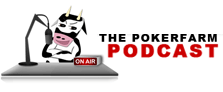 Catch up with the latest Pokerfarm Podcast.
Live From Cannes. Dinner With The Develfish