Another day another grind....
Oct. 18, 2011
So I haven't updated my blog in some time now and thought this would be a good time
to do so.  Poker wise I've been doing pretty well in the last couple of months and I'm
finally starting to put the hands in lately as well.

Last month was pretty good, so even though I'm stuck some this month I m still pretty
with the way things are going and developing I've been making some changes to my game
lately or more so over the last month or so and it finally seems to click like it's supposed
to.

As far as the games go I thought they have been really good in the couple of weeks or so but
are starting to become worse and worse each day lately, at 200 that is, I have been playing in
the early afternoons and it has been mostly a  reg on reg war. Seems like the action is much better
in the evenings though , but I really find it hard to motivate myself to grind in the evening or during
the nights so I always try to play at least one session before dinner.

On a more important note, I've starting reading Jared Tendlers The mental game of poker and can only recommend it to everyone. It's by far the best psychology book I've read poker wise so far. It's not even close between this one and the Poker Mindset which I thought was incredibly overrated. The whole approach it takes to making u understand what's really going on and the tools he s sharing to work on surpassing allot of ur mental problems is definitely by far the most advanced piece of poker literature I had the pleasure to read in awhile.

I mean with all the shit out there, videos , forums , and some other tools we all have at our disposal I feel like it's becoming one of the most important parts of one's game and probably the most underrated and undervalued one by allot of regulars, so if u were to gain a big edge in this area, its  only gonna profit u.

Its 4am while I'm writing this and I've played 8 hrs so I'm a leave it to this and might add some more strategy/hhs in my next one. I'll  try my best to keep it more updated in future.

Anyway I'm off , gl everyone.

Peace Zaza


What Others Are Saying
1 Comment about Another day another grind....

100% bonus up to £1250
$5 Bonus released for every 350 WH points earned
Pokerfarm Sponsorship
Up to 50% value back with our sponsorship scheme.See Promotions page for details
$400 New Player freerolls
Recieve 4 tournament tokens for thier weekly $1000 new depositor freerolls.
Exclusive Promo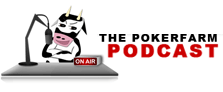 Catch up with the latest Pokerfarm Podcast.
Live From Cannes. Dinner With The Develfish