Cannes Betting Diary
Oct. 21, 2011

You want to hear about every bet I made in the last twenty-four hours? Okay, let's see. There was baseball. It was the eighth inning, and I bet the Rangers. That was a winner. It was 3-3 going into the eleventh inning before it ended. Then I woke up the next day, and... Hold it, does Chinese Poker count? I've been doing my pieces in Chinese, playing Sly at five a point, that hasn't gone well, and James at thirty a point, that's gone even worse. And I don't reckon they're better than me, it's nearly a straight flip innit.
After that I had a tennis bet that went a bit wrong. I don't even know who was playing. It was some ladies challenger match in Helsinki or something, and I was so steamed by this point I was just like what's the line, as it was live and in play. So I was watching that challenger match, no good there, and then the same night I had a double on the US major league soccer, I was betting on the unders on both the games. No, that bet was the night before, so I got up in the morning, bet on the challenger match, went out, came back and checked on the result, it was no good, and that's when I got involved with the hockey. You have to understand, this is not even bad for me. If I'm at home it's much worse. I haven't got a laptop here, that's the problem, here I keep having to borrow people's laptops to have a bet. Not like when I'm at home, in the comfort of my own living room. I've done forty dog races a day live at the betting office, I just see them as forty opportunities.
Today's Saturday. It's supposed to be the biggest day for betting, but Saturday's have never been my day, really. It's weird, but betting I've always felt like on Saturdays there's too many opportunities, and that's why it's my worst day. I like Sundays to be honest. I always like betting on Sundays, especially with American football season on. You can go all day. You wake up there's European football and then you go to the US all the way through. They say NFL is the purest sport to bet on. I like betting darts, as well. Darts is a really good sport to bet on in running, as the price changes every dart. I think football is one of the worst sports to bet on because nothing ever happens.
I've had some memorable bets. In tennis, the Isner match, when he played that marathon at Wimbledon, just absolutely destroyed me. I bet Isner at the start of that match. I had a big percentage of my roll on that game. I'd almost rather lose, as I wanted to have another bet, but it lasted three days! Absolutely ridiculous. At least I bet the winner, if you didn't bet the winner in that one you'd feel a bit sick, wouldn't you? And it looked like Isner couldn't win, when he came back for the next match he couldn't even move.
As for the surest bets I've ever made, I guess I had one once after knowing the result, which was nice. They had left the market up in tennis as they had a rain delay. And the games had restarted and they didn't realize it, and you could bet your life away. But it goes the other way too. The other week I had a bet without realizing there had been a mistake. It was on the NFL preseason, and the handicap was like -22. I'd bet it in running and they'd gotten the market backwards and put it at +22. I couldn't lose, basically, but I didn't realize it as I hadn't even seen the score. I just assumed that the line was fair as it was 5/6 on both sides and sometimes when you're just betting for action you wouldn't even notice. In the end they won by 28 points, but I only got paid out at 1/2000. I had two thousand on the match and they gave me one pound profit. It's not fair. If the mistake was the other way around they wouldn't have paid me, and I wouldn't have thought twice about it.
Sports betting bad beats? I've had a few really bad ones, really sick beats. Probably the worst one wasn't for that much money. But one of the worst beats I ever took was not long ago in the snooker. It was 4-4 during the Australian Open, and I'm watching it on Eurosport. It was 4-all, best of nine, and Neil Robertson is fifteen points in front, with just the black and the pink left. The other guy can't win, he has to snooker him, but it's impossible as you can't really snooker a guy with just the black and pink left. Robertson is completely straight on the pink and he just completely misses it, just misses the pink, no snooker he just misses it straight on. A professional snooker player! So Robertson loses six points, sets the other guy up perfectly and loses the match, and I can't believe it. I'm just sitting there and I want to kill myself. It was massive to me at the time, a big percentage of my roll. And all bets were off, they'd taken the markets down. Game over, the market was down, and they were about to give him the trophy. And he's missed it. I've had some bad ones.
Today I've had a four teamer come in, so now I'm betting the overs on the night game. I stuck it straight back in, the whole thing's gone on. It's action.
. And then I got up in the morning.
What Others Are Saying
1 Comment about Cannes Betting Diary

Hometown:
Derby
Country of Origin:
GBR
Lifetime Winnings:$750,026 Career Titles: 0 2011 POY Rank: 1796

100% bonus up to £1250
$5 Bonus released for every 350 WH points earned
Pokerfarm Sponsorship
Up to 50% value back with our sponsorship scheme.See Promotions page for details
$400 New Player freerolls
Recieve 4 tournament tokens for thier weekly $1000 new depositor freerolls.
Exclusive Promo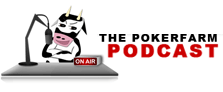 Catch up with the latest Pokerfarm Podcast.
Live From Cannes. Dinner With The Develfish