The last few months
Sept. 15, 2011
Being that we had our best month in July since we had been going 50/50 Adam and I set our targets really high. My aim for the month was to put in a lot of volume on ipoker from 400NL-1KNL and hopefully we could smash Julys 100k mark.
The month started extremely well for us, after hitting a 20k downswing at the end of July we managed to bounce straight back at the start of August and found ourselves 25k up after the first 4 or 5 days. Then all of a sudden came some run bad for ctrlaltdegen11 and after around 10 days into the month we found ourselves only 10k up and Ads around 30k below EV on ipoker. He was staring at his worst ever month in his poker career and not much of it was down to bad poker. Thankfully he has the best attitude to poker I have ever witnessed and played a ridiculous amount of poker the next 20 days. He managed to finish the month raking over 20k while taking off several days at festivals and living the life in his new Audi. I haven't got his HEM in front of me but at one point he was around 30k down and managed to crush last 10 days and finish around 25k up for the month.
Me well im a bit different, volume just is not my thing. When I play, I play long sessions but the problem is my usual sleeping pattern is 6AM until 2PM Costa Rica time and unfortunately not enough Europeans want to play poker at these hours so I usually only get in good sessions on Thursday Friday and Saturday where the games seem to run a lot longer.
At the moment volume is not the most essential thing for me as I am definitely playing the best poker of my life with my current pattern. I am adapting to regs better than ever, I am barely tilting (occasional blowups but that's in my mentality) and something I haven't done enough in the past but am currently doing a lot is changing the way I play from session to session. I have found this makes deep thinking 5 10 sharks struggle and a lot of very good players played some really horrific poker against me last month.
After a decent start to the month for me (personally around 20k up after 11 days) I had a sick weekend and managed to win around 25k. After this everything seemed pretty easy and ended the month over 65k up without putting in too much volume. Along with this I won around 20k in a live tournament as Craig and Mark managed to chop a live tournament (25% in Craig and 20% in Mark) and I ended up coming 6th after donating my stack to Mark with one of my usual live blowups. I actually for the first time in my life walked away from a live tournament and thought to myself I played some really sick poker. I seem to final nearly every tourney I play in Costa Rica due to the fact that 90% of the fields believe limping and never value betting is a better strategy. Anyway congrats to Mark and Craig (Craig will be claiming he is one of the best tournament players in the world now ......sighhhhhh need to listen to him).
All in all July ended up being a decent month for the two of us and we finished around 90k up and raked around 28k, plus some bonus money from a live donkament.
Our current month started really bad. First of the month I was 7k up and managed to book a win of
1k in the end and 2nd of the month Adam smashed all our personal records and dropped 22k in one day. However as I mentioned when things are going against
Ads he gets better and 13 days later he finds himself over 30k up for the month and I am around 35k up for the month. We are on target to smash our best month ever but unfortunately Adam is in a sling for two weeks after a shoulder operation and I am currently at the beach and then flying to UK for vacation on the 20th.
I feel if I write this in my Blog Mr Bord will find it very hard to say no, but while im in the
UK I am hoping he will sponsor me for the EPT main event and possibly the high roller as I feel one day I can win enough flips to win one of these things. He has already said he will stake me for the WSOPE in Cannes so I will be heading their in October and then after that I will be back online playing.
We have recently been offered the chance by James to play 1kNL- 5KNL and am really excited about this opportunity, I will update my blog as soon as I begin playing again or if I manage to bink a bracelet or an EPT.
2136 Views
|
Comments (1)
What Others Are Saying
1 Comment about The last few months

Hometown:
London
Country of Origin:
GBR
Lifetime Winnings:$75,000 Career Titles: 1 2011 POY Rank: N/A

100% bonus up to £1250
$5 Bonus released for every 350 WH points earned
Pokerfarm Sponsorship
Up to 50% value back with our sponsorship scheme.See Promotions page for details
$400 New Player freerolls
Recieve 4 tournament tokens for thier weekly $1000 new depositor freerolls.
Exclusive Promo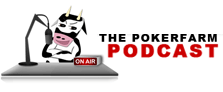 Catch up with the latest Pokerfarm Podcast.
Live From Cannes. Dinner With The Develfish