WSOP 25K Heads Up Championship
June 2, 2011
I only played one event at the World Series last year, just the main event. So this has been my first World Series event this year, and only my second World Series of Poker event ever. I wasn't that nervous coming in. If you're nervous then you're not going to play well. And because the field is so tough you are always going to get a tough draw, so you just can't go in being scared. In my mind you've just got to try and play your best and make good decisions. But for sure, it was really cool looking around the room during the first round. What an insane line up, pretty much every face in poker was there.
My first match was against Brandon Adams, and that was actually the match that went the most smoothly. I played really aggressively against him and he didn't adjust quickly enough, so I just kind of steamrolled him. I think that when people find out they're playing me, they look and see that I'm a tournament player and they assume that I play heads up like a tournament player would play. The truth is that actually I've got more of a cash background. Before I played tournaments I only played heads up cash and then moved over to tournaments, and so I think that works to my advantage a lot. It probably gives me a small edge that makes up a bit for their edge heads up. The last two matches were both really tough, against Jonathan "Iftarii" Jaffe and Dani "Ansky" Stern. Those two are really two of the sickest heads up players in the world. With Iftari it was fun. It's always going to be quick when you have two aggressive players heads up, especially when the blinds go up a bit and the stacks get shallow, you can get it in pretty easily. I had a really tough decision against Iftarii early on. I had three bet with Q-J and he called. The flop came K-Q-7 with two hearts. I bet like 17k and he raised, he made it 40k and I called. The turn was an off suit jack and it went check check, but the river was the four of hearts, bringing the flush. I bet 38k and he moved all in for about 180, and I called. He just had like, air, which was pretty much all I could beat, even though I had two pair.
So now I've won four matches. I feel like I'm playing well, just trying to focus and block out everything else around me. I'm trying to play each match as it comes, trying not to think about the money or winning the Triple Crown, which would be so cool. The third match was a bubble match, 67k or zero, so that was obviously a pressure match, but I tried not to think about it at all. As for my next match, any draw you get at this stage is going to be tough, so you got to just go for it and hope to run good. Tomorrow we're playing down to two, and then the final the next day. It'll be a good rail if all the guys come down, so I'm really excited.
So far in Vegas I've not been going out at all. I've just been having early nights and waking up early, having a shower, grabbing some food, and coming down. It's a pretty good routine. I don't really want to drink for the whole series, I just want to play. I know some people come to Las Vegas to party, but I think the party should be for after you win.

Hometown:
Rochdale
Country of Origin:
GBR
Lifetime Winnings:$2,670,443 Career Titles: 4 2011 POY Rank: 106

100% bonus up to £1250
$5 Bonus released for every 350 WH points earned
Pokerfarm Sponsorship
Up to 50% value back with our sponsorship scheme.See Promotions page for details
$400 New Player freerolls
Recieve 4 tournament tokens for thier weekly $1000 new depositor freerolls.
Exclusive Promo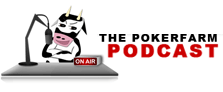 Catch up with the latest Pokerfarm Podcast.
Live From Cannes. Dinner With The Develfish