2011 WSOP First Cash
June 19, 2011
Vegas is my number one place. It's very special to me and also a lot of the guys. I have almost never cashed in Europe at all. It's kind of ridiculous. I've won three million dollars in prize money in my career, and something like 36k of that is from Europe. I'm not counting the UK of course, I'm talking mainland Europe. I did cash in the heads up tournament in Madrid last month, but before that I had some money for a heads up tournament in Evian, and that was it. It's all come from Vegas.
We're staying at the Meridian this year, which is an apartment resort not far from The Strip. It's close enough to the Rio and the apartments are decent. There's a real nice communal pool, a Jacuzzi, a gym (which is very important), tennis courts, it's perfect. They are all two bedroom apartments, with a lot of Brits staying there. I'm sharing with Praz Bansi, Karl Mahrenholz is with Jeff Kimber, Nick Gibson is with Skalie, Chaz is with Sunny, and we're trying to get JP Kelly and Martins Adeniya to move there as well.
Being in Vegas for the World Series, you just learn from experience. If you're out here for this amount of time and you don't look after your body, then after two or three weeks it's going to hit you. You're going to hit a wall. The first times I used to come out here I just went out partying and had three hours sleep every night, and this is like a road to disaster. These days I make sure I go to the gym at least three times a week. I try and eat quite healthily, not too much sugar, and just try to keep my body going. It's like running a marathon. After twenty miles you hit the wall. So you have to prepare yourself for it and be disciplined in your routines.
I got my first cash. Sometimes you go on a run where you can't cash for ages, and that's what's happened, so as soon as you stop the rot and get your first cash out here, it feels great. Then when you go to your next tournament you're like, "Well I've cashed before, now I'm going to cash again," And your whole mind-set changes. It shouldn't do, as a professional, but it does a little bit for everyone, no matter what they say.
It's been awful, being on a bad run. After six months I started to question myself, whether I've been playing well or not, and I've been back through hands I've played and tournaments I've played. There's been a few occasions where I haven't played well, and I totally admit there's been three or four tournaments where I haven't played my best, but generally my game is better than it's ever been. I'm getting myself into great spots. I find lately whenever I get deep in a tournament it's when I played without any showdowns, and when I get into race situations I'm too often on the bad side.
I love talking about hands. When people talk about hands I'm not the kind of guy who only listens with one ear. I like learning, and I want to improve. I talk poker the most with Praz. We have very similar styles. He understands certain plays that I might make and I understand him as well. Sam Trickett is also a very good player to talk to, as is JP Kelly. There are so many great guys that if I ever want any questions answered I know where to go.
Every year the British crowd at the WSOP seems to get bigger and bigger. I don't know where they're all coming from. I'm not even sure they're all British! But the last couple of years, the Brits presence at the World Series, the railing and the support is better than any country in the world. Like when Yevgeny Timoshenko was against Jake Cody in the final of the 25k. You had Brits vs. Americans. There was probably going to be more American guys there, but we just drowned them out. And they just had nothing to say after a while, did they? It was amazing. Obviously there are mostly Americans at the World Series, but besides that we are the top nationality in the world, and for such a small country.
I have a lot of favourite places in Vegas. Restaurant wise, I like Naked Fish or Firefly, which is a nice tapas place near to where we are staying that's open late. There are plenty of other nice restaurants in the casinos that are very posh and the food is always good, like Bartolotta, the fish restaurant at the Bellagio. As for nightclubs, I went to Marquee, the new nightclub at the Cosmopolitan, the other day for Matt Perrins' bracelet celebration. I have to say, that's the best nightclub I've ever been to.
Looking at the rest of the WSOP schedule, the 10k PLO is the one I'm looking forward to the most. My number one was the 5k shootout, where I just cashed. I used to play a lot of Sit'n'Gos, and I find a lot of decent to good Hold'em tournament players playing this event like a normal tournament, which it's not. They make mistakes. I've always made Day 2 in the 5k shootout, which is great. This year losing a 6-1 heads up chip lead to make the final hurt, but whatever, I think I played well. The guy that beat me won like twenty hands in a row. He told me later that he hit every single flop, so what can you do? But he didn't finish me off with that run, and eventually I got coolered. So now I'm looking forward to the 10k PLO, the 5k six-max PLO, and the 10k six-max Hold'em. Apart from the main event, those will be my favourites.
1120 Views
|
Comments (2)
What Others Are Saying
2 Comments about 2011 WSOP First Cash

Hometown:
London
Country of Origin:
GBR
Lifetime Winnings:$2,993,000 Career Titles: 6 2011 POY Rank: 10126th

100% bonus up to £1250
$5 Bonus released for every 350 WH points earned
Pokerfarm Sponsorship
Up to 50% value back with our sponsorship scheme.See Promotions page for details
$400 New Player freerolls
Recieve 4 tournament tokens for thier weekly $1000 new depositor freerolls.
Exclusive Promo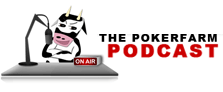 Catch up with the latest Pokerfarm Podcast.
Live From Cannes. Dinner With The Develfish