Early Days In Vegas
June 4, 2011
I don't have a schedule out here because I never know how I'm going to feel.I never know how I'm going to feel. I don't really like to stick to a schedule at all. I just play when I feel fresh. I'll pretty much play a tournament every day and if there's not one then I'll play cash games, so I'm just flat out playing poker right now. I haven't been out too much, but it's nice to have a night out every now and then.
Mostly I've been at James Bord's house in my down time, kind of relaxing. I haven't been doing too much there, just been chilling out and keeping fresh for the events. In the morning I get up and the chef cooks us poached eggs on toast and then I kind of relax, answer a few emails, go on Facebook, do a few things for Titan, and then try and get focused for the tournament. The chef at the house is brilliant. She's amazing really, she used to be the chef for Lionel Richie so you just get up and she makes you whatever you want, healthy as well. I haven't had a bad meal yet. And she doesn't finish until like ten at night so sometimes when you get in you just grab her and tell her to scrub you up some nice food.
The big cash game out here, I'm pretty sure it's the biggest live game I've ever seen in Vegas. I've seen bigger games in Macau, but it's nice to see that the games here are now getting big. Obviously it's good for me because I like to play in the big games, and now I'm just looking to try and get in them and find some good spots. I think whether or not the big games will continue will depend on who sticks around. If you get a couple of soft spots then the game is always going to be busy and it will be flowing action throughout the series. But I don't think the game will run if it's just Patrik, Justin Smith and Durrrr, it'll have to be a couple of spots that they feel they are value against. I'll bet Ivey's screwing now that he heard about this big game and fish sat with 1.5 million, but fair play to him. Ivey obviously wants to play the World Series of Poker so the fact that he's sacrificing playing his WSOP, I say fair play to him. But I'm sure he's tilted about missing the games.
The other day I played the 5000 NLH. I was looking forward to it even though it's a tough event, because obviously I came second in it last year. They had 792 runners last year and over 800 this year, so it's nice to see that the numbers aren't down as such. So far, anyway. But things didn't really go my way in the 5k. I had a really tough table and I played good, didn't make any mistakes, but I just got unlucky with the aces.
I just got knocked out of the 1000 NL by Jerry Yang. He comes to the table and I've been waiting there with 3000 chips all day. He raises the first hand and I've got jacks in the small blind. I'm like, YES!! I move in, and he's asks, "How much is it to call?" Then he turns over kings, I'm like "Aaahh." Jerry Yang. He wouldn't fold tens for like three hundred thousand chips, but with kings for 3000 he's considering it.
I think the Brits will have a good summer out here. It's started well with Jake Cody in the first event and we've got a lot of good players now, a good bunch of quality players. We ran really good last year. I don't know if we'll have as big a year this year as last year, but our players are improving and we are probably better than we were last year, so we just need to get some luck. A British player who doesn't have a bracelet but I think has a great chance this year is Matt Perrins, who I think is really good. He's been unlucky in a couple of EPT's, like the grand final when he came tenth and then he came 13th in another tournament where he was pretty unlucky. I think he's a great dark horse to win a bracelet.

Hometown:
Retford
Country of Origin:
GBR
Lifetime Winnings:$4,823,704 Career Titles: 5 2011 POY Rank: 45

100% bonus up to £1250
$5 Bonus released for every 350 WH points earned
Pokerfarm Sponsorship
Up to 50% value back with our sponsorship scheme.See Promotions page for details
$400 New Player freerolls
Recieve 4 tournament tokens for thier weekly $1000 new depositor freerolls.
Exclusive Promo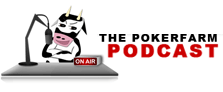 Catch up with the latest Pokerfarm Podcast.
Live From Cannes. Dinner With The Develfish