Dealing With The Sunday Million
March 23, 2012, Posted by Jeff.Kimber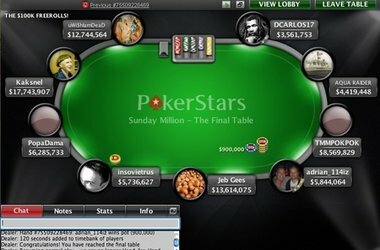 Winning the Sunday Million is the number one ambition for almost every online tournament player.
The PokerStars weekly event is the blue riband event of Internet poker, and to turn $215 into $200k-plus, as well as the kudos that comes with landing the title, would be the fulfilment of many an MTT grinders' dream.
Ask any player and they will say they'll be going for the win, trying to pressurise others who are looking at the pay jumps, and take advantage of those trying to ladder.
While others beg for deals, they'll be flexing their muscle and taking those pleas as a sign of weakness to be exploited.
But as with most things in life, the reality is when there's hundreds of thousands of dollars on the line, the fighting talk goes out of the window.
WSOP Main Event final tablist James Akenhead won the Sunday Million earlier this year, and did so without any deals, taking the first prize of $213,000.
For a superstar like James, with over $2million in live earnings, it may seem simple to play through without making any deals, but that's not how it played out.
With five players left, the others were keen to strike a deal, and James agreed to look at the numbers.
He was happy to deal, but only if they were willing to give up some equity and pad his prize. When they refused, he played on.
Again, when he got heads-up, a deal was mooted, but when his opponent wouldn't agree to the split James felt fair, they played on and James won the tournament.
I railed all of his final, and spoke to James about his play. He was very happy to have won with no deals, but at the same time, would have dealt if he felt it was a +ev decision at the time.
Last week, another friend of mine made the Sunday Million final.
Again, he was chip leader as the final started and looking to go for the win in the special $6million guaranteed tournament which celebrated Stars' sixth birthday, with $1million guaranteed for first.
'Blodders03' (he works full-time and doesn't really want to advertise the fact he just won a lot of money in case it affects his career) decided from the start he would try and pressurise his opponents and try and find the guys laddering.
After all, first out of the final would win 'only' $53,296, whereas one of nine players would be winning $1.064million by outlasting the rest.
"I was comfortable chip leader going into the final, but misplayed some hands from the start," blodders03 explained.
"I was trying to be aggressive, taking advantage of those holding out for a deal, but I was keen to deal when it came."
One player had departed when a deal was suggested. Next out would be getting $73,535, but blodders03 locked up $481,724, plus the chance to play for another $120k for victory.
While winning a million is a dream, can anyone sensibly argue that locking up $400k more than the worst case, with a chance of making it a $600k payday, is not the correct thing to do?
People can say, "you've already won $70k from $215, let it ride," but in reality this will be more than likely the only chance you'll get to win a life changing sum of money.
Moreover, you'll probably never play another game of poker in your life where each person being knocked out is worth the same as a family car, all the way up to the jump from the guy being knocked out in third being worth a guaranteed $190k pay jump for the remaining two.
Because of this, you have to weigh up 'correct' decisions against the long term chance of you ever being in this situation again for the variance to balance out.
If you lose a coin flip with AK against jacks at this final, it could be worth $190k to you. If you win the next AK v jacks you have, it could be worth next to nothing. This situation is so extreme that dealing is the common sense play.
I love the fact James Akenhead won the Sunday Million without deals, but I love it even more that he was happy to deal should the numbers have been in his favour.
No bravado, no' I'm gonnna win coz I'm the best', just sensible business decisions which ended with a $213k victory.
For blodder03, the disappointment of losing heads-up. He did lose that crucial coin flip, with A-Q against pocket fours, but by then he'd done the sensible thing and locked up $480k, a fantastic night's work.
What Others Are Saying
1 Comment about Dealing With The Sunday Million