Penny Up The Wall
May 7, 2011
Whilst on my way to get a train I noticed a few kids playing penny up the wall. This is a very simple gambling game, where two or more players throw a coin and the nearest to the wall wins. There are obviously some rule variants to this; some people disallow hitting the wall for example.
This put a huge smile on my face as I recollected my hustling ability at the ripe old age of 12. Penny up the wall was the new craze in the playground. The nits played for 5 pence, the serious hustlers would play for 10 or 20 pence, and the degenerate gamblers would play for Pounds!
I became quite adept at the game, I'm guessing my ROI was up around the 20% mark, many a free cookie was purchased through my winnings. This lasted for a couple of weeks until the deputy head decided enough was enough and simply banned it. Of course this had the negligible affect that prohibition normally exhibits and games simply moved into the dark corners of the playground, unregulated, less social players (i.e. fish) and more collusion (not really!). The poker parallels are there to see, and this brings me nicely to Black Friday
The online poker scene has taken a huge hit with the disappearance of US players. It remains to be seen what effect this will have on WSOP numbers, or whether the online satellite players will be wearing logos. As far as I am aware ESPN has pulled the broadcasting so sponsorship deals are likely to be far less lucrative.
All that being said, I suspect small stakes PLO games on the major networks are a little better now with no American regs playing. There is a marked downturn in traffic, but still plenty of action. Online poker is still here and won't disappear. I know a few people who have taken sizeable chunks of money off the sites post-Black Friday so your money is safe.
This does remind me that poker IS a hustle, be vigilant in Live games, especially those not held in Casinos or regulated Poker rooms. As ever when large sums of cash are involved, there are always those who will seek to take advantage in one way or another.
Poker wise i'll give you all a very quick update - having focused on live poker recently I am suffering a major downswing which is, as ever, tough to deal with. Previous to that I had a good run so i'm not complaining, just gotta keep that mindset of playing good. There are some excellent articles and forum posts on poker mindset so do a quick google search and spend a few minutes reading up.
Take care folks.

100% bonus up to £1250
$5 Bonus released for every 350 WH points earned
Pokerfarm Sponsorship
Up to 50% value back with our sponsorship scheme.See Promotions page for details
$400 New Player freerolls
Recieve 4 tournament tokens for thier weekly $1000 new depositor freerolls.
Exclusive Promo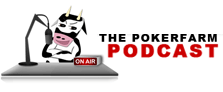 Catch up with the latest Pokerfarm Podcast.
Live From Cannes. Dinner With The Develfish