Since the WSOP
Oct. 11, 2011


I haven't played much poker since the World Series. I was kind of disappointed after the series, to be honest, because I expected to do well and nothing really good happened there.  I did come sixteenth in one event.  Since I've been back in the UK I've bought a new house, and I've been doing it up.  I needed to spend some money setting it all up right.  It felt great to buy a house and it was also nice to final table the Partouche Main Event right after buying it. 
I only played two tournaments between the WSOP and EPT London.  First I played the Epic Poker tournament, where I was chip leader with eighteen left.  Everything was going well and then the next day I went back and didn't win a pot. It was just like the same old thing that had been happening all the time so I was just pretty pissed off with tournament poker full stop.  And then the Partouche tournament happened.  I got aces vs. kings in the Partouche with like twenty-five players left, which is quite a good thing to happen.   You just need a little luck with one hand, and I got it there.  That hand gave me a pretty big stack and from there I managed to double up with no showdown and now I'm chip leader at the final table when we resume in November.    

Maybe I played a bit better in the Partouche.  The thing with the WSOP is that you know there's an event every day so in marginal spots I probably flick it in a bit easier just because there's another tournament tomorrow.  But when you travel all the way to France to play a tournament and you know it's just one tournament, well then you wait for a really good spot to put the chips in.  Maybe that's why I do better in the single events. 
Delaying the final table of the Partouche until November, I hate it. I don't like the wait at all.  At the time of the tournament everything was going good.  I was running good, I had a lot of momentum, I had strong opinions about the players at the table, and maybe that might change now.  In a few months they might play a little differently and have a different strategy coming back.  To be honest I wish they had just carried on, but I can't really complain.  A million euros, there's not many tournaments with a bigger first prize than that in Europe.  This year the Partouche is probably bigger even than the WSOP Europe main event.  As for the others on the final table, I know Big Roger, I've got a sick tell on him.  But everybody has that tell on Roger so there's no advantage, really.  I'm looking forward to November.  I'll be disappointed if I don't make the top three spots. 
I've also been playing a lot of poker online.  I recently ran 460 dollars up to 350k in like two weeks playing 6-max PLO, 25-50 and up.  No one really knows I play PLO, but I've always played.  I just hate Hold'em online, it's so boring.  If you want to win at online Hold'em you almost have to play with Hold'em manager, with a HUD.  And I don't enjoy that. I don't really think that's poker.  It's just stats, stats and maths, and I can't be bothered to get involved with all that.  I prefer just playing poker without a HUD.

Hometown:
Retford
Country of Origin:
GBR
Lifetime Winnings:$4,823,704 Career Titles: 5 2011 POY Rank: 45

100% bonus up to £1250
$5 Bonus released for every 350 WH points earned
Pokerfarm Sponsorship
Up to 50% value back with our sponsorship scheme.See Promotions page for details
$400 New Player freerolls
Recieve 4 tournament tokens for thier weekly $1000 new depositor freerolls.
Exclusive Promo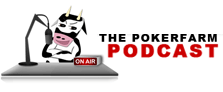 Catch up with the latest Pokerfarm Podcast.
Live From Cannes. Dinner With The Develfish